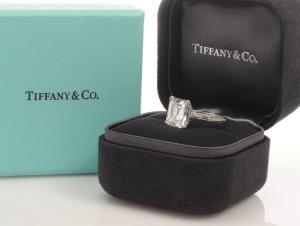 When clients consider selling their estate jewelry to New Orleans Jewelry Buyer online, questions often arise regarding the safety and security of the sales, shipping, and appraisal process.
At New Orleans Jewelry Buyer, we understand those concerns and are here to alleviate them. We want you to have complete confidence in the online sales process, so that you can enjoy the convenience, privacy, security, and speed of selling your precious gift assets from your home in New Orleans.
How do I know you won't switch my diamond or watch?
This question seems to get a lot of traction because of the scams that allegedly have occurred on eBay, where a seller ships an item like a diamond ring to some unknown individual (who often pretends to be a jeweler) who then switches the diamond out for a CZ and asks for a refund.
When you ship your diamond jewelry or luxury watch to New Orleans Jewelry Buyer, you are not dealing with an unknown party. You are dealing with a widely respected estate buying firm, registered with the Better Business Bureau, whose owner is an internationally-recognized fine jewelry designer and one of the premier estate buyers in the United States.
When your package arrives at our estate buying office, we immediately notify you and open it under video surveillance to establish if the contents are as described and to check for any potential tampering. This is to ensure your peace of mind and quickly process insurance claims if the package has been tampered with.
Important Note: Having shipped and received thousands of fine jewelry packages over the years, we have never had a package tampered with during transit or needed to proceed with an insurance claim.
Clients put their complete trust in New Orleans Jewelry Buyer in the same way they do if purchasing a diamond engagement ring from Blue Nile or designer jewelry online from Pearlman's Jewelers. Clients know that our entire business depends on trust and ethical business practices–anything else would mean a quick end to our business and reputation.
How do I know that I'll be paid after you receive my item?
New Orleans Jewelry Buyer always pays its online clients within 1-2 business days after agreement of our cash offer. If we ever tried to not pay a client, you can be assured that everyone would be reading about it online. Instead, what you will read online when searching us and our owner Carl Blackburn are reviews such as this:
I recently sold a 2 ct diamond ring to Carl Blackburn. Although I had never heard of him prior to this transaction, I cannot offer him enough praise…He responded immediately to all of my calls, addressed my questions with patience and clarity, never rushing me through a conversation, which put me at ease, as did his breadth of knowledge.

He enjoys speaking with you whether you are a novice or a seasoned collector. He wants you to have a good experience, and be happy with the offer. He is building long-term relationships, not fly-by-night, one-off deals. There is no pressure. He gave me his undivided attention, making me feel like I was his most important client every time we spoke, which was actually only a few times, because there were no games.

He explained the shipping process in detail, and sent me written instructions so I knew what to expect. He covered all the costs, and had I decided not to sell it to him, he would have shipped it back to me at no cost. We agreed on a replacement value for the insurance, whereas others only wanted to cover the wholesale amount.

Carl gave me between $7,000-$13,000 more than what some of the others offered. And he is still going to make a profit, which he deserves. He even contacted me the the next day to make sure my payment went through!
To read this entire review and other reviews of Carl Blackburn and New Orleans Jewelry Buyer, please click on the following link: New Orleans Jewelry Buyer Reviews.
How do I know my item won't get stolen or lost?
In our many years of dealing with the shipment of diamonds, precious gemstones, and fine jewelry, we have never had an item lost or stolen. However, in the extremely unlikely event that your shipment should get stolen or lost, you can rest easy, knowing that New Orleans Jewelry Buyer insures every package to its maximum value with G4S, the world's largest security services provider. Read more about our G4S insured parcel service by clicking here.
How do I know you are a legitimate company?
It is always important to do some background research on any company who is offering to buy your watch, jewelry, or diamond online. Avoid online jewelry and diamond buyers who only offer vague, generic, background information or say they are a subsidiary of another company, but when you search the parent company, you can't find much information about them and their owner either.
At New Orleans Jewelry Buyer, you know exactly who you are dealing with in an online diamond and jewelry buyer. We are a service division of Diamond Estate Jewelry Buyers, owned and operated by Carl Blackburn, and internationally recognized jewelry designer and estate buyer. Here are some links to help you do your due diligence on us and our owner:
1) KUSI TV News Interview of Carl Blackburn
2) Better Business Bureau Listing
4) Carl Blackburn's Jewelry Designer Website
The Benefits of Selling a Diamond or Watch Online
Now that we have helped alleviate your concerns about selling diamond jewelry or watches online to New Orleans Jewelry Buyer, let's talk a little about the benefits of selling jewelry online to us.
Sell Jewelry Privately & Confidentially in New Orleans
One of the reasons that thousands of online clients choose Carl Blackburn and New Orleans Jewelry Buyer is that we provide them with a discreet and professional way to sell their valuable fine jewelry and watches for immediate cash. Many of our clients would prefer not to be seen walking into a New Orleans jewelry store or pawn shop to sell an item like a diamond ring or Rolex watch. They want this transaction to remain entirely private. Working with New Orleans Jewelry Buyer, the entire sales process remains completely confidential.
Sell Jewelry Safely & Securely in New Orleans
Many New Orleans clients are concerned about the potential for street robbery, when selling their valuable estate jewelry and watches–especially when they are selling a number of extremely valuable items. When selling their expensive items to New Orleans Jewelry Buyer, online clients never have to leave the safety of their homes, and feel secure knowing that they are shipping of their items to one of the country's most prominent estate buyers who completely insures their shipment and guarantees complete satisfaction.
Superior Cash Payments for Jewelry in New Orleans
Selling a precious gift asset, such as a Tiffany diamond ring or Rolex watch, online to New Orleans Jewelry Buyer puts more cash in your pocket quickly and securely. Our track record of cash payments that often exceed competing offers by thousands of dollars has been well-documented by our satisfied clients.
One of the reasons our jewelry buyers pay more is that we deal exclusively in the buying and selling of high-brand estate jewelry and watches. We have an exclusive resale network that extends worldwide, which enables us to pay you more than a retailer who is going to try to sell your item locally.
Another reason New Orleans Jewelry Buyer pays more is that we work daily with clients who are selling jewelry online from home. This greatly reduces our overhead, and we pass those savings along to you in the form of higher cash offers. We can always offer more for large diamonds and important estate jewelry that is shipped to us versus us flying out to meet the client in person, or sending them to one of our many agents throughout the US.
When selling jewelry to our online jewelry buyers, Louisiana clients are assured of safe shipping and feel completely satisfied, knowing that not only are they getting 10% more than by going through an agent, but they are getting at least 10% more than a local New Orleans jewelry store or pawn shop would be able to pay them.
Should you have any further questions or concerns, please don't hesitate to contact us today. We are always more than happy to answer any and all questions.
To learn more about the quick and simple steps involved in selling diamond jewelry and watches online to us, please click on the following link: Sell Jewelry from Home in New Orleans.